Actress Drew Barrymore was left in tears after finding a hidden window in her home – much to fans bemusement. Watch the moment below:
The 47-year-old is currently renovating her New York City apartment and discovered a secret window behind some drywall in one of the rooms.
Taking to TikTok to share her discovery, the talk show host was brought to tears as she removed the building material and shared a philosophical outlook on her find.
Speaking to her followers, Drew began: "So the people who owned this apartment before me, um, covered up a window.
"I don't know why. And I was like, 'I know there's a window, I know there's a window'. And guess what? There's a window, and we're about to reveal it."
At one point, the Charlie's Angels star began howling with excitement after her contractors confirmed her suspicions about the hidden window.
As the discovery sunk in, the Never Been Kissed actress began to cry as she said: "It's so hopeful. It's like something can be so covered up and dark, you pry it open, and create light."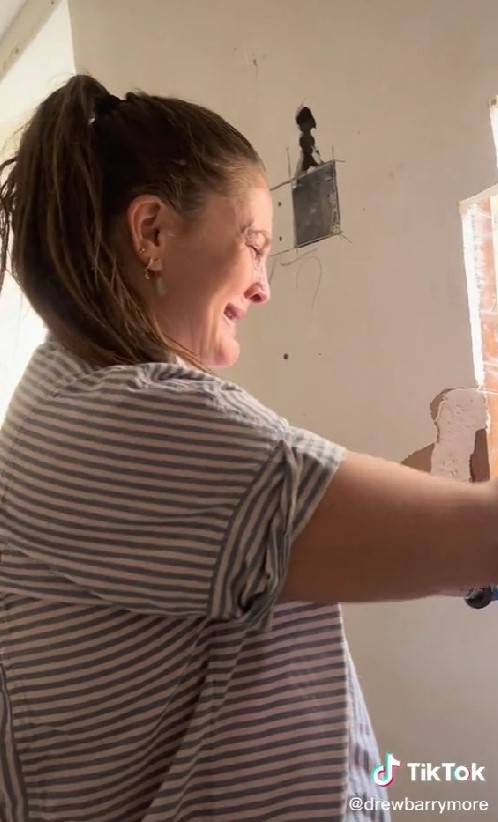 Although many of her TikTok followers were thrilled on her behalf about the discovery, others on Twitter, where the video has been shared widely, were left bemused by her emotional reaction.
One questioned on Twitter: "But wouldn't she know there was a window from looking from the outside?"
"It's almost like you could've walked the perimeter of the building and saw that there was a window there … " another remarked.
While a third asked, "Is no one gonna talk about the random barking she did?"
However, many of Drew's fans were quick to defend the star and her gratitude for celebrating the small wins in life.
"Some people in the replies have not renovated an old house and it shows," a fan shared. "I'm happy she got her window and that it still opened."
Another added: "I love her SO MUCH bc girlie is living life and seems genuinely so [enamoured] with the positives in her life.
"It's honestly so joyous to see, and I literally wish her every happiness."
"Protect this woman at all costs," a fan penned. "She is the new Betty White and will carry us through the next 60 years with love and joy."
The 50 First Dates actress moved from her native California to New York to be closer to her ex-husband Will Kopelman for their kids, Olive, nine, and eight-year-old Frankie.